LUNA13 Announces Release Of New Album God.Dis
Friday the 13th Of November
Through COP International; Digital Pre-Sales Available Now
Occult-Inspired Duo Releases New Album Teaser
"Cursing The Sky"
With Music Video Premiering Today Via Outburn
Self-Described As Deathtronica, The Theatrical Act's Trademark Blend Of Electronica And Black MetalHas Been Hailed As "Bass Music Scene's Slayer"
Friday the 13th of November brings the long-awaited new album from dark lord duo LUNA13 who will release their latest unholy collection of songs God.Disthrough new label, COP International (the home Stabbing Westward, Deathline International and Suicide Queen).
Today, LUNA13 also gives a tease of the record with new single "Cursing The Sky" and its accompanying and highly graphic music video premiering via Outburn Magazine. See it HERE.
"Cursing The Sky" is a perfect example of LUNA13's forceful Black/Bass/Metal style that has some hailing the act as "the bass music scene's Slayer." With elements of electronica, black metal and industrial rock, one of the band's curious hallmarks is crossing over from electronica to metal without the use of any guitars.
Dr. Luna, the duo's demented musical maestro creates the voluminous sound solely with synthesizers and distortion pedals by wrapping heavy distortion around sub-bass. Frontwoman Lilith Bathory further brings the spectacle with brutal vocals and trance-inducing dance moves behind her devil horns.
Of the new album, Dr. Luna says, "God.Dis is our most complete release. We are perfecting a new dark sound and God.Dis is Black/Bass/Metal in perfection. Lyrically, Lilith upgraded our dark content to fit the dark trends of 2020." Thematically, songs on God.Dis cover the grounds of witchcraft, nuclear war and modern conspiracy theories.
A new feature in Playboy Mexico also analyzes LUNA13's dark material and its relation to the message of female empowerment. Read it HERE.
In speaking of the new single, Dr. Luna adds, "The video concept of 'Cursing The Sky' was created by Lilith to fit the lyrics about the persecution of Witches. We made this video by ourselves during quarantine and we had fun shooting it in our home in Joshua Tree, California."
With a gripping aesthetic paying homage to domination and the occult and a strong live show heavy on theatrics, LUNA13 has become a favorite attraction in hallowed Los Angeles where they hail from as well as a memorable opening act for death metal, industrial and electronica projects including Possessed, Insane Clown Posse, Doyle, Skin Lab, Insomnium, Skold and Mushroomhead.
Here is what the press has had to say about LUNA13:
"A music project that both shocks and entertains people"—Voyage LA
"The bass music scene may be looking at their very first real
Venom or even Slayer"–London TV
"Hollywood CA's Satanic Vampires, LUNA13 have served as Bass Metal ambassadors, keeping the spirit of dark music alive through shockingly grotesque performances and Electronic Bass Metal song-craft. This project is brutal, dark and visually stunning."–Sleeping Bag Studios
"Their peculiar, controversial and brutal mixture of Bass Music and Death Metal is truly original and unheard. Their courage in crossing boundaries between genres that are commonly worlds apart led them to be one of the most talked about emerging acts."–Tuned Loud
God.Dis will be available in CD and digital download formats. Pre-ordersare available now at: https://copinternational.bandcamp.com/album/god-dis

God.Dis track listing:

01. God.Dis[intro]
02. Cursing The Sky
03. Sacrificial Lamb
04. Black Stars Shine
05. Illuminati Lucifer Party
06. The Beast Within
07. UNDED
08. Sekhmet
09. Bull Horned Home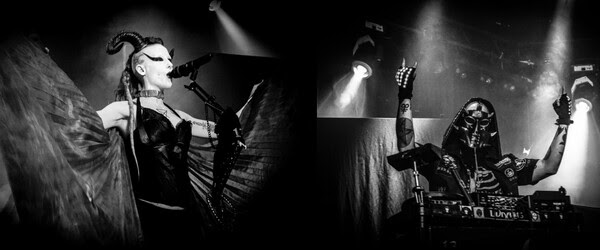 About COP InternationalThe year 2019 was a crucial one for COP International as the label teamed up with legendary producer John Fryer to form a production company under the COP International umbrella. Fryer is producing and engineering the majority of the forthcoming COP catalog and also working as A&R in helping to select appropriate acts. "The level of craftsmanship, artistic talent and meticulous attention to detail is what sets John's work a world apart," says COP International founder Christian Petke. "After working with him on some remixes for COP and Deathline International's new album Pax Americana, I knew I found the perfect partner for COP International. When we first started talking, I brought up John's relationship with 4AD where he was the principal engineer and producer. This is exactly what we have in mind for this collaboration. Scout, nurture and develop exceptional talent. Driven by the desire to create a body of work that speaks for itself. "https://www.copint.com/
Find LUNA13 Online
Website: www.luna13.net
Facebook: https://www.facebook.com/luna13official/
Instagram: https://www.instagram.com/luna13official/
About Author